Movies
2017 - 2020 The 5 Lights
In 2016, a leaked report from NASA spoke about five unidentified flying objects – five lights that appeared over the Pacific ocean. The sighting was confirmed in a TV newscast by Leroy Chiao, the only astronaut who noticed the phenomenon in 2004 as he entered free space from the ISS. Papuans were not surprised by the sighting at all. The astronauts expressed a wish to learn to ascend into space in the way traditionally practised by the Yali Mek tribe. On 24 November 2017, the astronaut Koichi Wakata joined the chiefs on their trip to the uppermost floor of the World.
2017 Burumalim + Ropan
The chief Yali watching cargo planes landing from the same spot where his Dani ancestors once used to sit. He also made a trip to the Ropan supermarket, located about 300 metres from the aeroplane landing strip in the town of Wamena, to purchase oil and presents for his grandchildren.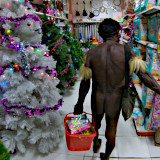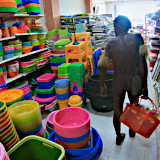 2013 The Space Call
It was the Yali Mek people's wish to have the existence of the uppermost floor of the World confirmed. In 2013, the Papuans received a phone call from space: the last chiefs spoke to astronaut Koichi Wakata who called them from the Sky – the International Space Station, through a satellite phone. The call happened on 24 November 2013, at 6.30 pm Papuan time (about 9.30 am ISS time).
2012 – 2016 Natural-Born Astronauts
The Papuans believe that the eyes of every living creature travel to the Sky at night, watching its sleeping body. This is what makes the stars shine. Certain people also have the ability to travel by using smoke to the Sky, the upper level of the world. The Yali Mek people wished to meet the one who was chosen to fly up to the Sky, just like their shamans, and share their experience of flying. NASA astronaut Leroy Chiao accepted the Papuans' invitation in 2012. Together with Maneng Yalak (Grass That Pigs Graze On), the tribe's most revered storyteller (who has since adopted the Christian name Simon), they share their experience with travelling up to the Sky in the men's house. This event was shown to them in 2017 on a projection screen in the village itself.
2002 - 2013 The Men's House Time Loop
The Papuans wished to see and own the photographs of themselves. That's how the portraits of the same people in front of their past were created. The photographs were presented in the men's house.
©2006 – 2023 Barbora Šlapetová